Our wide selection of practical, comfortable and affordable medical products is designed to suit all the medical needs of your facility. Our supplies specifically cater to the needs of diabetics, disabled people and bed-ridden patients. Although healthcare policy may be going through many changes, it's crucial to maintain a strong, consistent foundation of medical equipment and Feroz Medical Supplies has you covered. Check out our categories of medical equipment below:
Diabetic Shoes & Inserts
Hospital Beds & Accessories
Orthotic Devices: Knee, Back, Ankle,
Wrist & Elbow supports
Complex Rehab Weelchairs
Manual Wheelchairs
Walkers & Canes
Commodes Heating pads
Stockings
Payment Methods
Medicare
Medical
Some PPO's
Some HMO's
Worker's Compensation
Cash
GET 10% OFF YOUR PURCHASE!
Just fill out the form below.
---
Convertible Chair
The Barton Convertible Chair series offers a multitude of capabilities within a single product. Designed to allow a single caregiver to easily and safely transport and reposition a patient, the Barton chairs can perform the functions of stretcher, mobile chair, custom seating.
---
Power Tilt
50° of tilt
Lower standard seat-to-floor height
Easy, unmatched adjustment and durability
Maintains center of gravity shift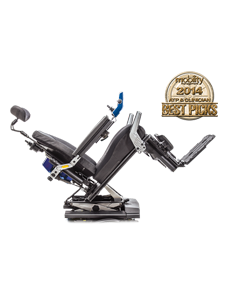 ---
BodySport® Wheel Chair
Tuffcare's new feather light 757 high strength light weights only 27 lbs. without the front rigging. It is the best choice for person with a active life style. It have multi-angle adjustment caster stem, adjustable seat height, and back height. Real wheels are quick release for transporting and storage.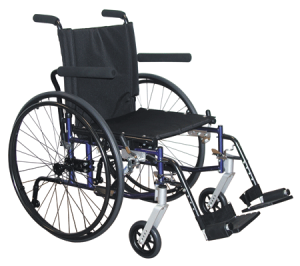 ---
Horizon® Back Brace
Providing anterior and posterior motion restriction, the Horizon™ 631 LSO is the perfect blend of comfort and support, promoting a rapid recovery and return to mobility. Designed to relieve low back pain, the Horizon 631 provides a therapeutic level of compression for patients recovering from surgery or injury. One-size adjustable, all Horizon braces comfortably fit waists ranging from 24-70 inches* and can be worn underneath clothing. Like all Horizon braces, the Horizon 631 LSO can be stepped down to the Horizon PRO (Pain Relief Orthosis) for the treatment of recurring back pain.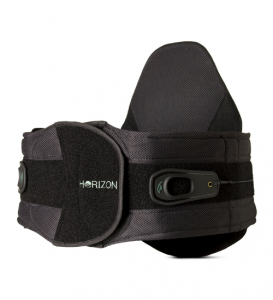 ---
Apis®  Diabetic Woman's Shoes
Light Weight(7 Ounces Per Shoe for Most Women's Premiere Styles)
Three Widths from Medium, Wide to Extra Wide
Multiple Colors Available(Ruby Red, Jade Green, Navy Blue, Wine, Black, Beige, Angel White, Taupe etc.)
Leather uppers, Seamless linings
Added depth and width at the toe
Size from 5, 5.5 to 11
Three Pair of Inserts Included in Retail Package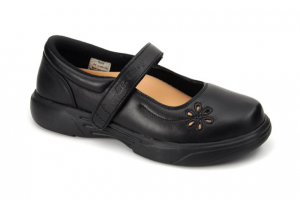 ---
Apis®  Diabetic Men's Shoes
Genuine Leather uppers and lining
Seamless lining to decrease friction
Extra-depth with 2 layers of removable inserts for flexible fitting
Better accommodation of AFO, orthotics and internal modifications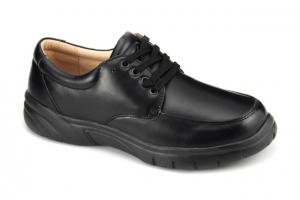 ---
Dalton Medical® Walking Cane
Anodized aluminium shafts
Height adjusts in 1" increments
Height range: 31″-40″
Weight limit: 420 lbs.
---
Dalton Medical® Quad Walking Cane
Anodized aluminium shafts with reinforced steel base
Small base: 6" x 8"
Large base: 7 1/2" x 12"
Approx. user height: 4'10" – 6'4"
Height range: 29″-38″
Unit Weight: 3 lbs
Weight limit: 450 lbs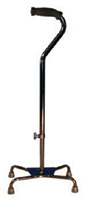 ---
BodySport® Dual Control Lumbosacral Body Support
9″ wide
All-elastic construction provides a long-wearing brace with expected life of up to 10,000 closures
Gives added support to lower spine for minor activities
Double-pull design provides greater stability than single-pull support
Removable second pull strap
Contains latex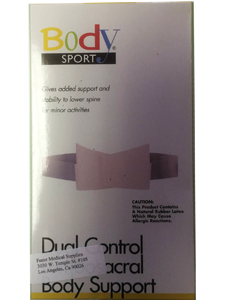 ---
BodySport® Ultra Lift Back Support with suspenders
9″ wide, black support is constructed from breathable elastic for extra comfort
1 1/2″ wide nylon suspender straps keep support securely in position
Super-strong Velcro lasts up to 10,000 closures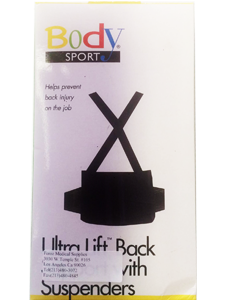 ---
BodySport® Neoprene Knee Support
Provides firm, comfortable compression and support
Keeps in body heat
Ideal for stiffness, tendonitis, arthritis and minor sprains
Darted for a comfortable, contoured fit
Open patella design
13″ sleeve
machine washable
contains latex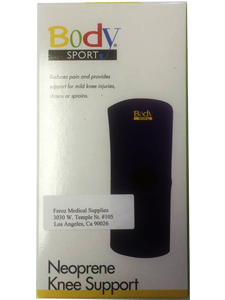 ---
Alex® 3″ Wrist Band With Thumb Loop
Elastic wraps around wrist
The addition of a thumb loop keeps the band in place for easy closing
Hook & loop closure
Indications
Light compression
Arthritis
Carpal tunnel
Sprains
Strains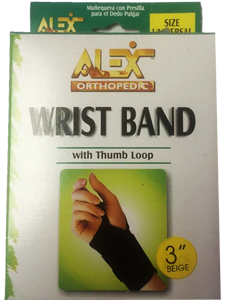 ---
Alex® Industrial Back Support with Shoulder Straps
9″ Mesh back panel with four anti-roll stays
Light and comfortable for all day wearing
Provides needed compression and support
Plush hook & loop compatible side panels
Tapers to 4″ over abdomen
Applying the 4″ tension straps gives as much support as needed
Adjustable suspender straps

Reduces stress on lower back while lifting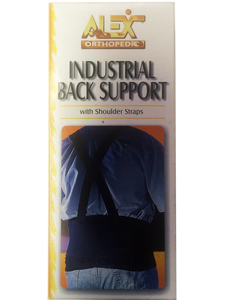 ---
Alex® Hernia Belt
2″ Straps
Removable pressure pads
Washable
Indicators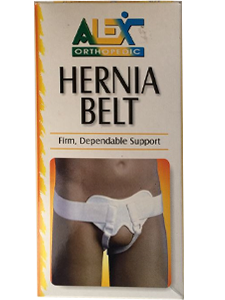 ---
Alex® Elastic Knee Sleeve for Added Support
Soft beige knitted elastic
Slips on easily
Provides compression
For sizing measure around the knee (circumference)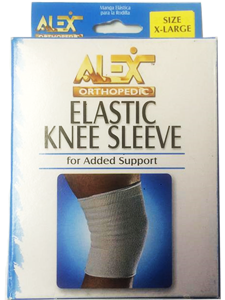 ---
Alex® For Him & Her Knee High Support Hose
Smooth and comfortable
Opaque knee high
For men and women
Two way stretch design provides extra comfort
85% Nylon, 15% Lycra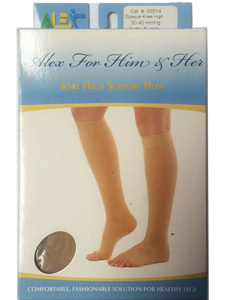 ---
Thermoskin® Thermal Single Shoulder
Exclusive 3 dimensional lining that provides insulation and wicking of moisture via air circulation. This allows the skin to remain well oxygenated and comfortable for extended periods.
Promotion of increased blood flow facilitates enhanced recovery
Provides light but firm compression to counter act tissue swelling
Clinically tested to increase the skin and muscle temperature
Provides temporary relief from pain/soreness associated with sports injuries, arthritis and RSI
Increases elasticity and reactivity of the muscle
Proprioception (support): implies perception of correct body position
---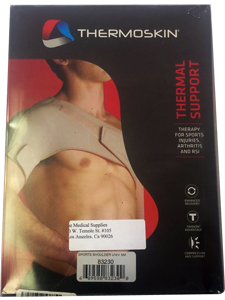 Swede-O X8®
The Swede-O X8 ankle brace has patented features for ease of use and maximum support. The X8 utilizes twin dual-purpose straps instead of the usual four-strap design. The exclusive dual-purpose straps serve as bothe the figure-eight straps and the top locking straps. This unique strap design is also pre-positioned half way through the figure-eight configuration for easier application and to ensure proper placement. The heavy-duty construction and longer length of the straps allow more leverage to be applied to the straps for a much more secure fit.
Unlike competitive braces where the straps are held in place by securing to Velcro only once, the X8 straps are secured in multiple locations for longer lasting support. It is also quick and easy to modify the X8 strap support level during use by simply adjusting two straps instead of four.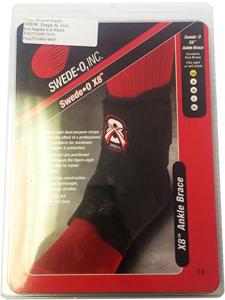 ---
Core Products®Corfit Industrial Back Support Belt 7500
A Lumbosacral Support with the same great sizing and features of the CorFit in an industrial version for the working man or woman. Internal suspenders keep support in place prior to lifting and are more convenient than shoulder straps. Opposing side pull assists provide additional compression and support. Black. Available in S, M/LG, XL, 2X, 3X, 4X or 5X. Additional charge for sizes larger than XL.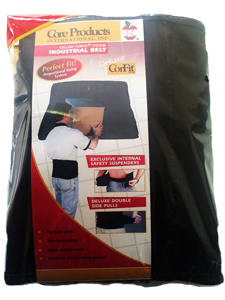 ---
Core Products®PowerWrap Wrist Brace
Get a custom fit every time with a quick pull on the straps. Easy to wear and adjust. Durable outer shell with a soft, resilient fabric lining provides a comfortable fit over tender spots. Aluminum palmar spoon places wrist in a cock-up position. Recommended for weak and injured wrists or to help prevent reinjury. Available in Black or White. One size fits most; specify right or left.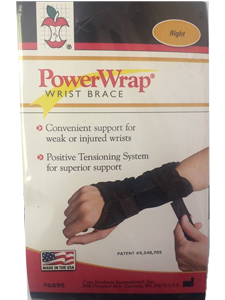 ---
InvaCare® Universal Cervical Collar
The Universal Cervical Collar is a soft foam collar that is slightly contoured for comfort. The one inch thick foam is covered with stockinette and has loop/lock closure. Universal style fits most; 2 1/2 inches wide at the chin, fits neck circumference 12-22″. White.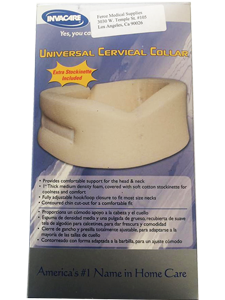 ---
IMAK® Elbow PM
Prevents harmful arm positions while sleeping
Provides customizable comfort – maximum immobilization with splint in, or gentle support with splint removed
Promotes healing with therapeutic warmth
Soft cotton lining and cushioning foam allow skin to breathe
New! Stretchable webbing for improved fit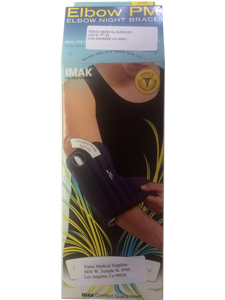 ---
Valeo® Neoprene Elbow Support Sleeve
Valeo's standard Elbow Support provides support and protection from injury during sports and exercise by keeping the elbow stable. The elbow brace retains heat for a therapeutic effect that keeps the elbow ligaments warm and limber. Valeo's elbow support is made of durable vented neoprene and is lined with terry cloth which provides superior contoured and comfortable fit. The brace retains heat without moisture buildup. Latex free and machine washable.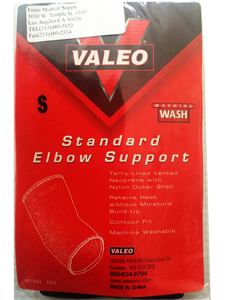 ---
LEADER® Heating Pad Moist/Dry Heat
Slide switch with "on" indicator light

Three automatically-controlled heat settings

Wet-proof pad construction

Removable hand-washable cloth cover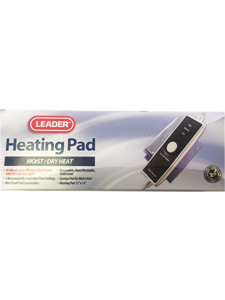 ---
LEADER® Neoprene Knee Wrap
Knee Wrap with Reinforced Patella – For Additional Support
Wrap-around Design – Applies Compression
Hook Receptive Pile
Comes with 2 Adjustable Velcro Straps
Latex Free
Fits Either Knee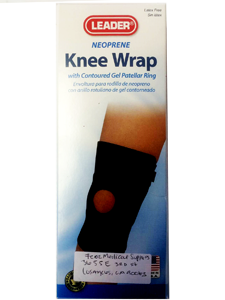 ---
Poli-Aire® Ice N Heat Cervical Pillow
The Poli-Aire Ice N Heat Cervical Pillow utilizes a unique blend of air and Poli Fiber material. The user can create a firmness comfort level by adjusting the amount of air in the pillow using the air valve on the side of the pillow. The Ice N Heat therapy pack may be used in the microwave/boiling water or refrigerator/freezer.
Poli-Aire Product Features
Adjustable density
Ice N Heat therapy pack included
Deflates to fit your suitcase or carry bag
Removable-washable poly/cotton zipper cover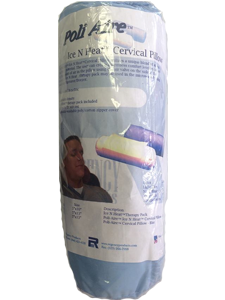 ---
JOBST® UltraSheer
Thanks to patent-pending knitted-in silicone yarns in the inner knee welt area, the SoftFit™ technology improves both comfort and efficacy. The specially siliconised yarns adhere softly to the skin and keep the stockings in place. As a result, the pressure in the top band area can be lowered in favour of higher wearing comfort.
superior moisture-management
adds coolness and softness for the skin for high comfort